Clearly FLAWLESS, 6 Essentials for Everyday Beauty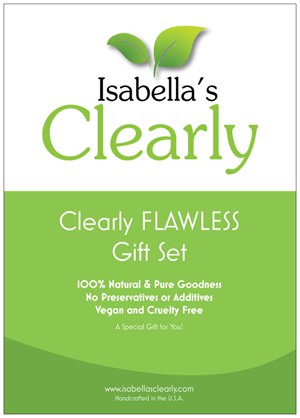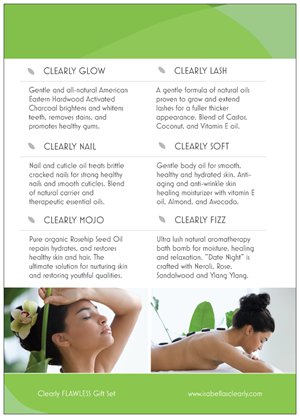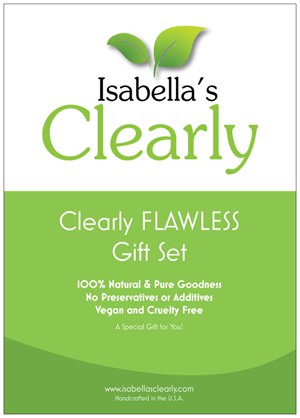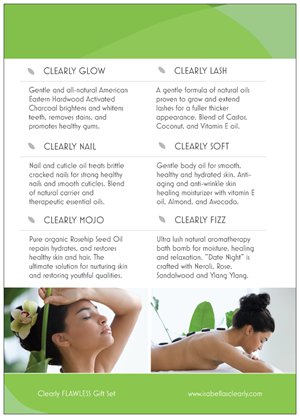 Clearly FLAWLESS, 6 Essentials for Everyday Beauty
Clearly FLAWLESS Gift Set contains 6 essentials for everyday beauty. Handcrafted in small batches in Southern California, with natural, organic, and therapeutic ingredients, and beautifully wrapped in eco-friendly packaging.
► Date Night "FIZZ" Bath Bomb made with Neroli, Rose, Sandalwood, and Ylang Ylang known for their aphrodisiac and ultimate moisturizing effects.
► GLOW premium activated charcoal for gentle teeth whitening and healthy gums. (3-Months Supply)
► LASH a blend of Castor, Coconut, and Vitamin E oil for healthy, thick, lush, and long lashes. (0.25 oz.)
► SOFT a moisturizing body serum to heal, hydrate, and smooth dry skin. (2 oz.)
► MOJO nature's organic anti-aging rose-hip oil to repair, hydrate and restore healthy skin and hair. (2 oz.)
► NAIL nail and cuticle oil for strong smooth nails and healthy cuticles. (0.33 oz.)

HIGHLIGHTS
✔ Handcrafted in the USA using 100% natural and therapeutic ingredients. No artificial colors or fragrances.
✔ Beautifully wrapped with love to make the perfect gift for any woman in your life - mom, wife, daughter, teen, or friend.
✔ Your favorite Isabella's Clearly products all in one set at incredible savings!
✔ Decadent scents provide aromatherapeutic benefits and antioxidants to cleanse, detox, heal, and nourish.
DIRECTIONS
FIZZ: Use Clearly FIZZ for a moisturizing and relaxing bath. Fill bath tub with desired amount of water. Pop a nourishing FIZZ in your bath water and watch it explode into a swirling, aromatic ball of fragrant fizz.
GLOW: Use Clearly GLOW to whiten your teeth naturally. Wet toothbrush with water, coconut oil or by adding toothpaste, then lightly dip in GLOW adding a little powder. Brush your teeth for 2-3 minutes then rinse well. Use 2-3 times a week prior to your brushing and flossing routine for optimal stain removal and teeth whitening.
LASH: For longer, thicker, and healthier lashes, apply Clearly LASH to your eyelashes, and eyebrows if desired, at bedtime. Use regularly for best results.
SOFT: Massage a few drops of SOFT on the skin until fully absorbed. Perfect for face, hands, legs, and feet. It's best used directly after cleansing your skin. Helps relieve rosacea, eczema and psoriasis among other skin conditions.
MOJO: Massage a few drops of MOJO between palms and gently apply onto desired area to repair and hydrate your face, hair, nails and skin. Use on wet or dry hair, or on cleansed dry skin. For maximum benefits, apply twice daily.
NAIL: Use Clearly NAIL to strengthen nails and soften cuticles. Shake Well. Rub on nails and cuticles regularly for best results.
INGREDIENTS
FIZZ: Sodium Bicarbonate, Citric Acid, Corn Starch, Sea Salt, Almond Oil, Rose Witch Hazel; Essential Oils (Neroli, Rose, Sandalwood, Ylang Ylang); dried Roses.
GLOW: Premium Food-Grade Activated Charcoal Powder made from American Eastern Hardwoods.
LASH: Natural blend of Castor, Coconut and e-Oil vitamin.
SOFT: Proprietary blend of Almond, Grape Seed, Avocado, Camellia and Borage oils with Peppermint, Lavender, Geranium, Jasmine, Tangerine and Ylang-Ylang essential oils.
MOJO: Pure, Organic, Unrefined and Cold Pressed Rosa Canina (Rosehip Seed Oil).
NAIL: Natural blend of Jojoba, Sweet Almond, Sesame, and Olive oils with Peppermint, Tea Tree, Thyme, Myrrh, Lavender, Tansy, and Clove essential oils.
FORMULATED WITHOUT: Phthalates, Parabens, DEA, Formaldehyde and PEG. Never tested on animals. 100% vegan.